On 29 August, four AVIAT volunteers left for a new mission: Antonio Carusone, Claudio Rigoletti, Renza Martini and Valeria Guastoni. They will be joined on 7 September by Enrica Costantini, Silvia Dragoni and Romain Moulart.
They will carry out visits and free distribution of medicines in various villages in the North and near the capital. They will do activities at the NDN orphanage in Notzé and especially in Atakpamé at the 'Village of Joy'.
In spite of difficulties in obtaining permission to operate, which came as usual at the last moment, the work of the volunteers is proceeding according to plan. There will also be an opportunity for institutional meetings with the local authorities to set up future projects.
17 September
Silvia, Enrica, Romain
Unfiltered, uncut, true and hopeful, full of ideals, dreams, projects, the desire to put order in this world that sometimes seems to get out of hand.
The GREAT beauty of the road travelled together.
16 September
Silvia, Enrica, Romain
Wherever you are in the world, Peppa Pig always works
15 September
Silvia, Enrica, Romain
When you can, give the gift of a dream
Robin Hood arrives in Togo
Antonio
Soon I will board a plane that will take me back home, thus ending my eighth humanitarian mission in the land of Africa.
The experience of the mission in this land is never easy to describe, there are moments when you are overwhelmed by emotions, your heart fills with smiles, looks, tears and gestures that will never leave you because they will remain imprinted in your soul.
This land teaches you to give importance to every little detail, to feel good and laugh with little, to learn to be happy with nothing, it makes you understand how precious water is.
Africa is a thought, an emotion, with so many contradictions.
During this mission, we reached, covering kilometres of track inside the forest, people in villages where medical assistance is pure utopia, people came, especially the elderly, who to our questions declared candidly that 'they did not suffer from anything but had never been visited by a doctor, when they needed one they turned to the village healer'; we cared for children in several orphanages, some of which are well run where the little ones have found a family, while in other orphanages the children more than live try to survive; finally, we cared for premature and malnourished babies in centres or dispensaries, where lives are saved every day, thanks to the self-sacrifice and love of exceptional people.
Now we return home, tired in physique but with a heart full of emotions, how can we forget the eyes shining with happiness of some mothers when we delivered the powdered milk that would have saved the lives of premature, malnourished and lactose-intolerant babies; how can we forget "merci beaucoup" repeated over and over again by Sietou for having given her "normality" by repairing her prosthetic leg; many other emotions/moods will accompany me, but meeting Kossi is the strongest emotion that will accompany me for the rest of my life, seeing him run and play with his peers moved me, with much effort I had to chase back a few tears, in the memory of an entire night spent in hospital, together with his mother, to snatch him from the jaws of an inauspicious fate.
A kiss and a big hug to my travelling companions who supported and endured me, Valeria, Renza, Claudio, Enrica, Silvia and Romain.
A big THANK YOU goes to so many of you who are close to us in all our initiatives and follow us assiduously, you give us the strength to continue.
When, in a few days' time, I miss treading on the red earth, the festive cries of the children as I pass by, "YOVO-YOVO" (white man), not a day will pass without my being assailed by Africa-sickness, a state of the soul before being a state of mind.
Goodbye Africa Translated with www.DeepL.com/Translator (free version)
14 September
Silvia, Enrica, Romain
Deal done 
Tomorrow we will make the well!
Togo
Big day today:
We started by sorting and preparing food parcels for needy families and then taking them home.
Most of them have dire situations: missing parents who leave 10 siblings alone, 15-year-old single mothers, a grandmother who has to take care of her deaf-mute granddaughter with a physical problem because her daughter has been deported to Gabon, and we could go on with these stories again and again…
The parcels consisted of rice, tomatoes, soap and some money which never hurts.
In the early afternoon we went to survey the place where tomorrow we will start
drilling for the well.
When we returned, we offered the boys a second tasty snack: bread, butter and jam!
We write to you from the terrace of the orphanage under a starry sky, thinking back on the wonderful times we had.
Tomorrow after the drilling we will leave again for Agoe but that is another story…
13 September
Claudio
Yet another ancestral village..
Extraterrestrial I would say..
where the women, after various passages,
turn manioc tubers into flour for cooking…
12 September
Claudio
The journey through time continues…
But the situation is always the same, if not worse…
And as always…
the losers are always them,
the most helpless, often exploited.
Although I think those in need of care were lucky to meet us in the end…
Although I think that's a disgraceful statement…
But that's how it is…
Otherwise, like the burnt child, with the sore was getting infected, she risked losing her little foot…
11 September
Enrica
They are many reflections, moments of silence as we return, moments of daze in the midst of that dishevelled hubbub, thoughts that seem to me never-ending because they have no answer.
When I pass by, I skim, I hope to be able to caress, but I pass, they remain. Heavy conditions, impossible explanations to give me, I who also often search for them in the sky.
The anger I wish could be turned into possibility, the compassion I wish could be an anchor, the total incomprehension that unfortunately remains anger. The real revolution is also just listening, which is to give them back their dignity, the real war is not to make war.
Pierette is my age but her eyes are empty, her gaze points beyond that difficulty that is having sick 7-month-old triplets, it points to something that I cannot imagine, because I pass.
I pass.

I don't know what it is for, I don't know if it is a good thing, I don't know when and how. I pass and but I don't close.
Have a good Sunday
10 Settembre
Claudio
Open your eyes and hear…
..the cocks crowing..
…the birds flying in the palm trees…
..the muezzin calling to prayer…
..the children chasing each other and shouting in the alleys…
Another day begins…
Good morning from Atakpame
Enrica, Silvia e Romain
Early this morning we got up and started with the 'cup washing' together with the children.
We then started to distribute some of the school materials collected and brought here by Sister Betta.
A few days before our departure, we were given a specific request: small cloth bags to give to the children to go to school. Since we could not collect a large number of small bags, we thought: let's have them made here!
With Kokou we went to choose the fabric and material to have the bags sewn for the children, which will be ready on Wednesday.
We then returned to the orphanage for lunch, happy to have contributed to a local reality that should be supported and encouraged.
This afternoon we were making coffee when Sister Betta arrived telling us that she had to rush to the hospital because triplets (two girls and a boy) had a very high fever.
For practical support, we decided to follow Sr Betta to the hospital in Atakpame.
As soon as we arrived, we realised the general situation: total lack of hygiene, often unfriendly staff, noise and … the lights going off all the time, so much so that we were forced to use the lights on our phone so that the nurse could find the children's veins.
Every sick person who comes to the hospital must be able to support himself not only financially but also in logistics and practice.
Everything has to be purchased, in addition to medication, gloves for the nurse, needles, syringes and physiological fluids. The rim of the gloves becomes a tourniquet in these cases.
Given the situation, we did not hesitate to take care of the needs.
Tomorrow we will go back to the hospital again to bring the necessities to wash and dress them because no matter what part of the world you live in, every person has a right to dignity.
9 September
Claudio
..WHO MAKES ME DO IT….
..even Briatore's words help one to persevere..
… YOU SHOULD ASK THEM…
Antonio
BUT WHO MAKES YOU DO IT…… Surely some of you will remember Kossi's story. Humanitarian mission in 2019, a woman arrives with a small bundle, sits down and starts crying saying that her son has malaria and she has no money to treat him. The little boy was one year old and had had malaria for several days with a high fever, weighed just 5 kg, and his haemoglobin determined with our laptop gave a value of 4 (v.n. 12-14). I immediately had the mother and child taken to the hospital, at least that's what they call a dilapidated facility, for an urgent transfusion otherwise the child would not have survived long, when we arrived at the hospital they discovered that there was no blood available and it would arrive two days later. After several hours of searching, at 9 p.m., we managed to find a compatible donor and accompanied him to the hospital for all the necessary procedures. At midnight, little Kossi began the transfusion that would save his life. The next morning he was much better and after a few days, the little boy and his mother were discharged and he returned home, more 'lively' than before. Three years have passed since then, during which time due to the covid pandemic I could only follow Kossi from Italy. Today I couldn't help but stop by to see for myself how he was doing and greet his mother with a big hug and a tear that I found hard to hold back in the memory of a night together in the hospital………
ASK KOSSI WHO MADE ME DO IT
Enrica, Silvia e Romain
Yesterday night we spent it at the Big Hearts mission in Amakpape where we were welcomed with great joy.
This morning we visited the orphanage in Notse, also buying rice and oil for a good time.
Emotions ran high and led us to reflect on the good fortune that we experience every day, we who, without right, were born on the right side of the world.
Towards evening we left for the village of Joy in Atakpame, welcomed by Sister Elisabeth and many children full of joy. Tomorrow the day will start early in the morning but we will tell you more soon….
8 September
Claudio
I must have mistaken the shuttle…
I must have landed on another planet…
I thought certain situations were relegated to old 80's-90's movies…
Instead I find myself living them now, touching them with my own hands… in the third millennium…!?!?!!
An inhuman misery…
These days I experience sensations, conflicting emotions….
Which open me a thousand questions about what we call civilisation… !!!!
Antonio
BUT WHO MAKES YOU DO IT……repaired Arietou's prosthesis, restored 'normality' and a smile to a young mother. For us Westerners a trifling expense, for her an expense she could not afford. 17,000 cfa= € 25.95….. ASK HER WHO MAKES ME DO IT
Enrica, Silvia e Romain
He who embraces you with a smile also does so with his heart
A busy first day with a visit to the Joko Togo orphanage run by the very brave Silvia.
The needs are many but we managed to buy rice and oil for the children in the orphanage 
7 September
Enrica, Silvia e Romain
Three more volunteers left today to help in the Togo missions. Have a good trip!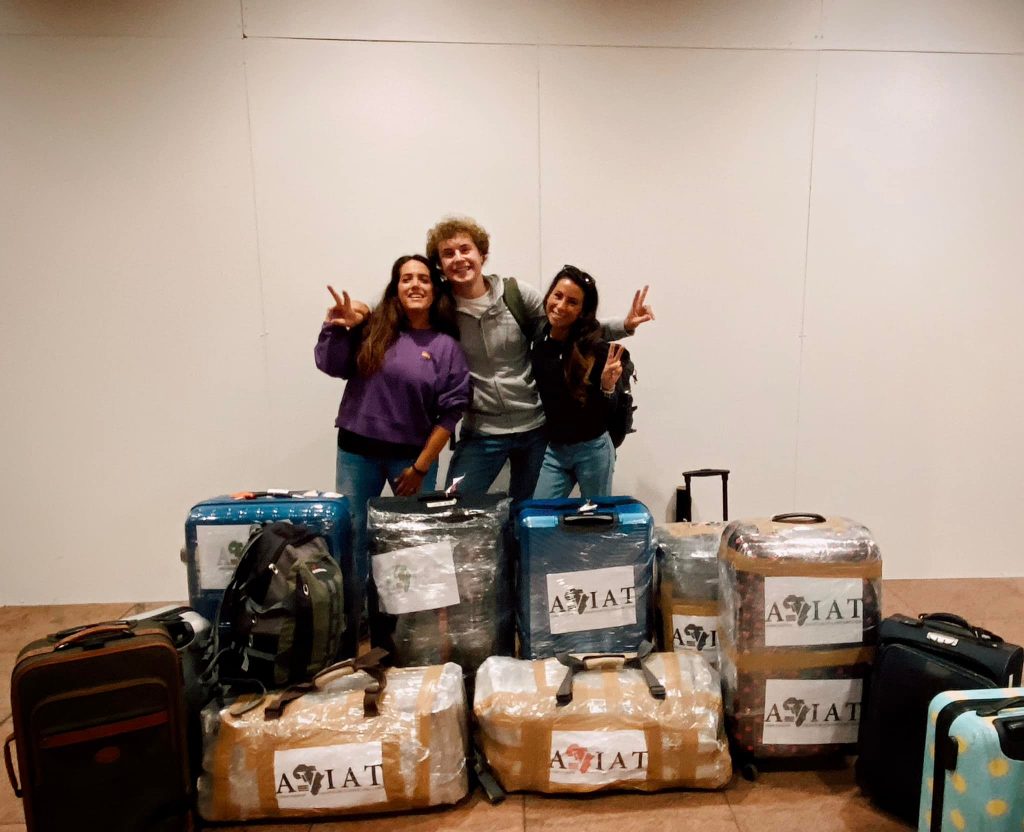 Claudio
Today we move further south.
New villages await us, with unpronounceable names …
While beyond the window daily life flows .
Renza
"Even if the window is the same, not everyone who looks out of it sees the same things: the view depends on the gaze.
There is always a way out, and if you don't find it, break through the wall….
Each of us, has a fairy tale inside….."
6 September
 Claudio
After a three-hour journey on tracks bordering on impassable, we visited and treated some 70 children, women and elderly people.
3 September
Antonio
MA CHI TE TE LO FA FARE…..delivered 24 kg of powdered milk for children born prematurely and malnourished, milk not always available in Togo, but indispensable for the survival of these children. All this is also thanks to so many of you who support us in our initiatives. Children destined for an inauspicious outcome without this life-saving milk……Who MAKES ME DO IT
2 September
Antonio
WHO MAKES YOU DO IT? …… 5-month-old baby weighing 2.5 kg, 7-month-old baby weighing 4.5 kg, 17-month-old baby weighing 7.5 kg. Severe malnutrition, only possible treatment with nasogastric tube. Never seen a doctor…….